Huawei has sold more phones worldwide in recent months. That lead over Samsung has been heavily influenced by the corona crisis, and it's not clear if it's enduring, either.
Samsung and Huawei
Samsung has been the largest smartphone manufacturer worldwide for years, but Huawei has never put it under the chairs that it wants nothing more than to simply take over the torch from Samsung. Huawei has already experienced strong growth in recent years, but the trade ban in the United States has made sales of Huawei phones outside of China more difficult. Huawei now sells phones without Google services.
[irp posts="1482″ name="FCC: ZTE and Huawei pose a threat to national security"]
Yet it seems that Huawei has become the largest smartphone manufacturer, according to figures from the market analysis agency Canalys. They note that Huawei sold 55.8 million smartphones in the second quarter of 2020, compared to 53.7 million at Samsung. Samsung phone sales were down 30 percent from a year earlier.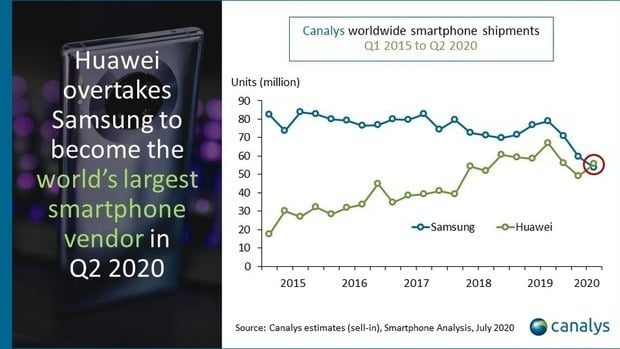 Cause of change of power
The impact of the coronavirus is, according to the analysts, the main reason for the change of power. China is one of the countries less affected by the virus outbreak worldwide, while Huawei now sells more than 70 percent of its phones domestically.
[irp posts="1605″ name="Huawei is locked out of the 5G infrastructure in the UK"]
Samsung, on the other hand, has a very small market share in China. Huawei saw sales outside its home country drop by 27 percent, but sales in China have grown since U.S. sanctions. The table below shows Huawei's strong position in China.
"Taking first place is very important to Huawei," said Canalys analyst Mo Jia. "The company is eager to demonstrate the power of its brand to Chinese consumers, parts suppliers, and developers. Huawei needs to convince them to invest and it will spread the message of its success in the coming months."
Although the analysts expect that Huawei will not be able to maintain its market leadership in the longer term in the current circumstances. Finally became known recently that Huawei's sales in the first quarter of 2020 has increased.