Thanks to the advancement of technology, the Internet is present in a wide variety of products. The locks could not be less and, thanks to wireless communication, today it is possible to open, close and control home security from our phones and devices thanks to smart locks like the ones we present below.
 Ultraloq UL3 BT Bluetooth Keyless Smart Lock
The Ultraloq UL3 BT smart lock offers great versatility, thanks to its 5 ways to open and close. The first one is through its smartphone app, which allows you to create credentials and keep a record of all openings and closings. The second is by key, the third by biometric fingerprint registration, the fourth is the complete password registry, with a capacity for 95 codes and, finally, 3 mechanical code keys.
This could be the best value-for-money smart lock, thanks to its Bluetooth 4.0 connection system, with double data encryption and low consumption, which allows you to save on batteries.
On the other hand, it has an OLED screen, an anti-panic free exit system, a resistant zinc alloy body, and IP65 protection for outdoor use.
Installation:It is easy to install since you do not need to make any modifications to the door. It has no cables and the handle is reversible to fit 99% of the doors on the market.
Bluetooth 4.0:Bluetooth 4.0 offers a fast and stable connection, so that the door reacts to the commands of the application quickly. Double data encryption guarantees security.
Batteries:The batteries are long-lasting and have autonomy for more than 8,000 openings and closings.
Orientation: The smart lock is designed for doors that open to the right, so mounting on doors that open the other way is somewhat difficult.
OWSOO Smart Fingerprint Lock 
OWSOO could have the perfect product for all those users who are wondering which smart lock to buy to improve the security of their home and prevent theft and occupations. It is a simple installation device, which you can install yourself in less than 5 minutes and which can be used for right or left-hand doors, provided they are single cylinders.
The smart lock works by biometric fingerprint reading, which offers maximum security since each finger is unique. Thanks to the semiconductor reading system, it is almost impossible to duplicate a fingerprint. The system has the capacity to read up to 100 different fingerprints, so you can offer your friends and family access to your home. The reader is placed in a natural position, which facilitates the reading of the fingerprint and improves the opening.
Reader: The biometric fingerprint reader has security systems to avoid duplication and is located in a natural position that facilitates reading. The whole process takes less than 1 second.
Materials: It is made of a zinc alloy that makes it very resistant to the elements, but also very hard, to avoid being forced or breaking the door.
Options:The lock does not have a Bluetooth or WiFi connection, or any type of application, so in this sense, it is a bit short in terms of certifications.
SQL Electronic Keyless Smart Lock with Bluetooth
The SQL smart lock allows users to open and close their doors using their smartphone thanks to its Bluetooth and WiFi connectivity, with ES 128 Bit data encryption technology that offers maximum security. It has an offline mode, which allows you to open and close the door even when there is no Internet. It has four types of unlocking: fingerprint, password, IC card, and the mobile app.
From the application, you can configure passwords, activate double authentication, and create credentials so that visitors, friends, family members, or workers have access. It also allows you to see who opens and closes the door and when, all in real-time, so you will have full control over access to the home.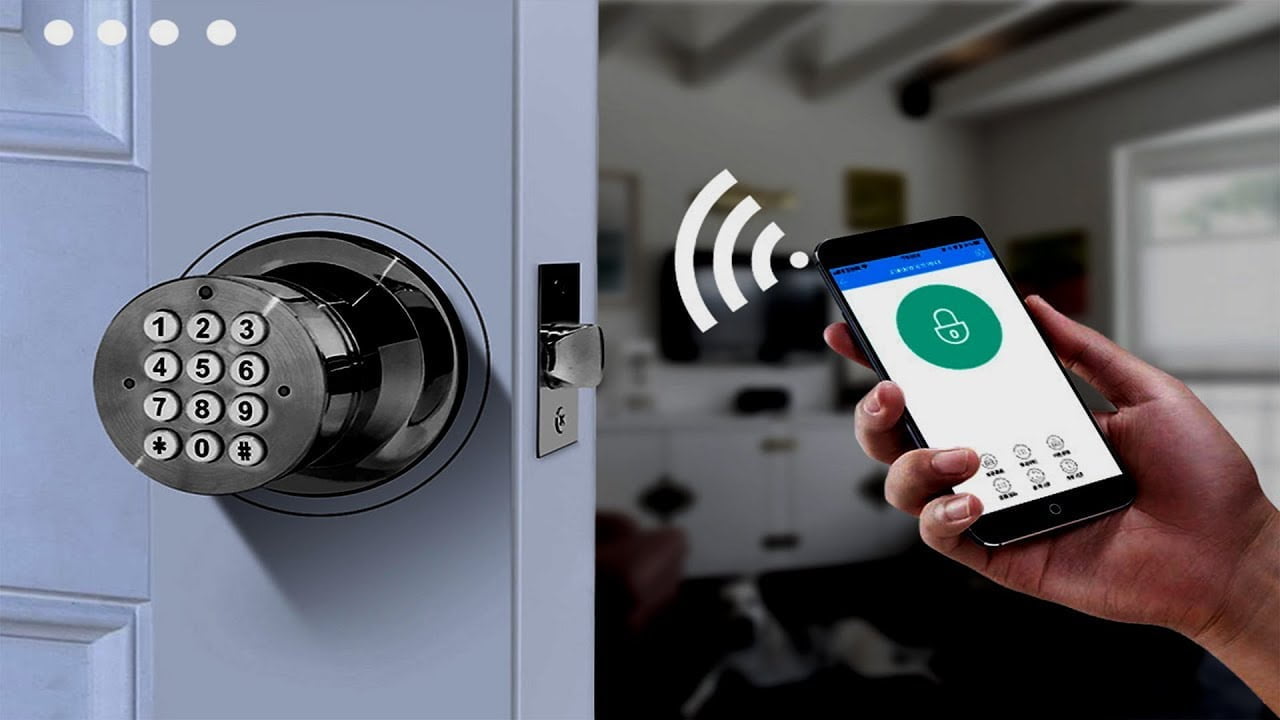 It has a silent system to deactivate the sound of the lock, perfect for those who work at night and do not want to disturb their family or neighbors. The useful life is more than 300,000 openings.
Battery: The lock has batteries that are charged via a USB cable, saving you money on batteries.
App: The app is very complete, available for smartphones and tablets, it allows you to open and close, create credentials and see in real-time who has access to the home.
System Silent: The system of opening and closing silent makes it perfect for places where it is necessary to keep silent.
Installation: The installation is somewhat complicated, especially in exterior doors, since the design is intended for interior doors.


Frequently asked questions

Q1: How to install a smart lock?

In most cases, smart locks are designed for easy installation. To do this, you just have to remove the original cylinder from the door, something that can be done with just a screwdriver and in less than 5 minutes, and replace it with the new lock.

When installing, it is advisable to read the user manual carefully, to familiarize yourself with each part and the assembly process. Some products include all the necessary tools as well as the appropriate screws, but others do not. If you do not have all the material, do not disassemble your original cylinder until you have all the screws and parts necessary to assemble the new lock.

Once installed, check that it works well and that the cylinder closes well. Try a couple of times, opening and closing the door, to make sure everything is working properly.

In case the lock has cables or a more complex installation system, the best you can do is have a locksmith to be the one to take care of the installation. Remember that a lock must be perfectly installed or else they could break into your house or, worse still, it could not work well and leave you out of the house.

Q2: How to open a smart lock?

Each lock has its own opening and closing methods. The best smart lock will be the one that offers you more than one option, for example, one that allows you to open using a mobile application, a password, and a key or RFID card. Some allow opening by means of a biometric reading of the fingerprint and others do it using numerical passwords.

Some smart locks allow you to keep the traditional key, thus offering an extra layer of security to your home.

Q3: How does a smart lock work?

Although, as we have just explained, each one has its own opening systems, almost all smart locks work similarly. They have an electrical or electromagnetic mechanism that is responsible for keeping the door closed until it receives an opening indication from the device controller.

Electronic or smart locks provide an identification or "credential" system that authorizes the electromagnetic lock to open or close. To open the door, the user must show that credential. In reality, it is a system very similar to the locking of a smartphone, since the door is opened through a PIN, password or unique fingerprint.

Q4: How to make a smart lock?

A smart lock must be very safe since it will be in charge of the security of your home, so we do not recommend making one, but it is much better to buy it.

In any case, it is possible to make an intelligent lock with a Raspberry Pi, creating a deadbolt type system that, installed on the door and connected to the smartphone, allows you to control the closing and opening of any door. This is a complicated process, but you can find video tutorials on the Internet that will explain how to do it.