As a student, my educational career was so complicated before the invention of online tools. I used to face many problems like:
Grammar errors in my essays.
Usually got plagiarism in my assignments.
Disturbing intent of the paragraph while summarizing it.
But fortunately, in this modern era, I have the option of online tools that are very helpful for
eliminating all the above-mentioned errors.
As The Internet Is Full Of Online Tools, Are All Of Them Are Good?
Obviously not, there is every type of tool available on the internet, some are the best but some of
them are just a waste of time and effort. This is the reason, I am writing this review and going to share my experience with one of the famous online tools platforms "Plagiarismremover.net", let's get started.
Reading Suggestion: PrePostSEO Review – A Growing Toolkit
How This Platform Facilitates Students Or Professionals?
As I have mentioned above that there are several problems appeared in an educational or
professional career so, you can minimize them using this online platform. Plagiarism remover is offering many important online tools that can assist you in your writing whether you are preparing assignments, writing research reports, and many more. All the tools offered by Plagiarism remover are enlisted below:
Plagiarism remover
Article rewrite
Paraphrasing tool
Plagiarism checker
Text summarize
Grammar checker
Citation generator
All the above-mentioned tools are way very important and needed in almost every field of life so,
this platform is highly contributing to making writing easier and smarter.
Technology Used!
There are numerous tools available on the internet but you cannot guarantee the accuracy, in the
case of Ai tools, you must be pretty much sure about the accuracy and authenticity. Luckily, Plagiarismremover.net is working with the combination of artificial intelligence and that's something increasing the accuracy and authenticity of this tool.
If you are a student or even a blogger, you can trust this online tool platform because in my personal usage, this tool performed the best.
Some Of The Tools Offered
As we have enlisted all the tools above but discussing them all in detail is something very
important. All available tools are really futuristic and easy to use.
After going through all of them, you can decide on your own whether to give this tool a try or simply
ignore it.
Reading Suggestion: 7 Basic SEO tools for bloggers
So, let's get into it.
1. Plagiarism Remover
The main tool of this online platform is Plagiarism remover and it is pretty obvious by the name
that this tool is used to remove plagiarism.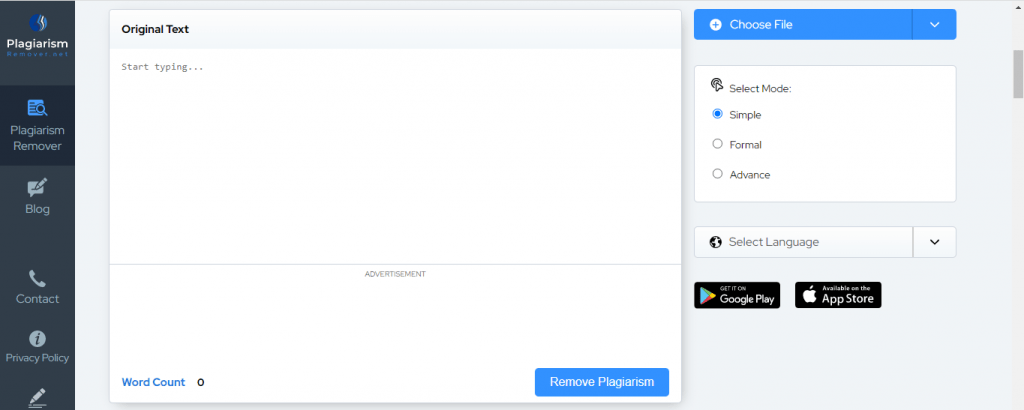 How Does It Work?
It's just a replacing game! A plagiarism remover replaces some words with their synonyms in order
to get rid of plagiarism. And this is the simplest way to eliminate plagiarism. But things are not over on removing
plagiarism only, there are many features available, have a look at them.
Remove plagiarism with three different modes (simple, formal, and advanced).
Multilingual support.
Upload the file from different sources (Google Drive, Dropbox, Local storage).
Mobile applications are available.
Accuracy and authenticity are guaranteed.
All of the above-mentioned features are good enough to encourage the audience to give this tool at least a single try.
2. Plagiarism Checker
Plagiarism checker is a vital tool in the educational sector or even in the professional fields also. If you are willing to have an authentic plagiarism checker, you can go for this plagiarism checker.
Some people ignore the accuracy factors while using a plagiarism checker but it is something really
important and must not be ignored at any cost.
The plagiarism checker by Plagiarismremover.net shows the accurate percentage of uniqueness
and plagiarism along with the proper plagiarism report.
Once you'll get a plagiarism report, you can download it and attach it with your written documents
like assignments or research reports.
Here are some notable features of this tool.
Check plagiarism in multiple languages (e.g., Dutch, Spanish, French).
You can use Google drive and dropbox as the uploading mediums.
Plagiarism report with all the sources.
You can compare the plagiarized text with original sources.
Easy-to-use interface.
We hope you will find this checker good enough to use for checking for plagiarism in your
important documents.
3. Grammar Checker
Grammar errors are quite common and important to ignore but at the same time, it is very difficult
to do this job manually.
So, the only option is to go for a grammar checker that will be efficient enough to highlight every
basic and advanced grammatical mistakes.
The grammar checker by Plagiarismremover.net helps you remove the following errors:
Spelling mistakes
Punctuation errors
Irregularities of conjunctions
Sentence fragmentation
Moreover, this tool is free of cost; you don't need to pay any cost. This is quite a good option for
students and beginners in every field.
4. Text Summarize
Summarizing can be a difficult job if you are doing it manually because it is very important to cover
all the main points in the summary and keep the intent the same.
So, you can take help from this summary generator, there are some things ensured by this platform
and all these are enlisted below.
You can set the length of the summary on your own.
It will cover all the main points.
It will not disturb the main intent of the content.
You can make the summary generation easy and accurate while using this online tool.
Reading Suggestion: How Do I Find The IP Address Of A VoIP Phone?
Positive Points
Here are some of the points that may be helpful for you to decide whether to use this tool or just
ignore it.
Free of cost (You can access every feature for free).
Easy-to-use interface (Anyone can use this tool).
Accuracy and authenticity are guaranteed.
Ai-based tool.
Negative Points
As we all know that everything or every tool has some pros and some cons as well so, let's have a
look at them.
Advertisements
Sometimes get slower
Conclusion
Undoubtedly, there are numerous tools available on the internet but this tool can surely save your
time and your effort as well.
In my personal opinion, you must give this tool a try and decide on your own whether to use it
further or just switch to any other tool. I hope this review will be helpful for you.