How do you start with international SEO? If you want to start getting your content in Germany, India, China, Brazil, Japan, Spanish speaking countries, or other areas, what are the methods or resources to get started?
5 Tips To Build A Sustainable International SEO Strategy
There are many ways to approach international SEO and therefore many mistakes to avoid. You want to expand your business to new markets or countries but not push the boundaries of Black Hat SEO. In this article, you will, therefore, discover five tips to tackle your international SEO in a thorough manner.
Is Expansion Desirable or Not?
The first thing to keep in mind is: is expansion actually desirable? Yes, there are people all over the world. The complete market is much larger than just the Dutch, French, the English market, or the United States. Before you start thinking about global expansion, however, it is important to understand where your customers come from.
You May Like: 9 Practical Tips To Optimize Images For SEO
Then you will investigate whether there is sufficient trade for you in that market. Expanding simply because a market has many people or because the country of the market in question has a decent gross domestic product (GDP) is sometimes not enough. If this is not the case and indeed there is not enough trade for your company then you should not consider expanding now.
Another common mistake is that many entrepreneurs want to expand too early. These companies are looking for international expansion, but are not yet doing well in the market within the region where they are located. Always try to dominate your own region or grab the portion of the market before taking the step towards international expansion. It is easier to expand from such an excellent position.
Is international expansion the right step for your company? Then it is wise to go after the regions that you know that there will be customers and enough income for your company. In any case, expanding your business to new markets or countries involves a lot of costs and investments. Moreover, you do not want to go beyond the limits of your defined budget.
Translate Content Manually
When you expand your business across the border, your website must contain the right content. There are many different regions and countries that you can target through content marketing. For that, it is important to know that you have to manually translate your current content. When you simply use a tool, such as Google Translate, the content is automatically translated.
Once a potential customer comes to your website and you have translated the content into the visitor's language, what do you think will happen to the automatic translation? Two things. Visitors from abroad will probably email you about crazy things that are described on the website. Second, there is a good chance that your bounce percentage goes through the roof. You naturally want to avoid both situations.
You May Like: Google: More Than 25 Billion Spam Pages Detected Per Day
Since the well-known Panda Update, Google looks much more at content quality, user statistics, bounce percentages. Since then, there have been many algorithm updates, such as RankBrain, that include similar algorithm changes. So if your bounce rate is very high and your user statistics are bad because you have automatically translated your content through tooling, this will have a negative effect on your rankings in the search results.
In short, always translate your content manually to avoid situations like this. Fortunately, you don't have to do this alone. You can find people who can help you through places like Upwork or recruit people in the region you want to expand in. They then provide high-quality, manual translations.
The next step is to generate brand awareness and visibility in the relevant region. So you can start building quality backlinks and social shares so that you become more visible to your audience online. That is of course easier said than done. If you want to build authority internationally with your website and gain visibility, you will not succeed with fast and cheap Black Hat SEO techniques.
Thus, some investment is required to build the desired authority. That is why tip 1 is so important. Only if you are sure that these regions can eventually generate income for you and your company, can you consider expanding? For example, see if you already have customers from these regions. Then you already have a starting point from which you can build your authority.
Use Hreflang
Another important aspect of international SEO is the use of the Hreflang tag. This falls under the heading of 'technical SEO'. Correctly setting the Hreflang tag is important when you have multiple websites or pages within a website in multiple languages.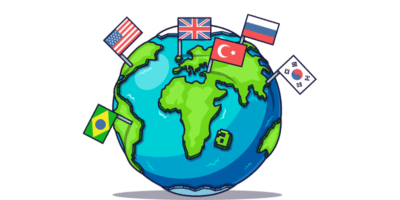 The Hreflang tag is intended to let Google know in which language the content is written and in which region the content is aimed. This piece of code basically says to Google, "Hey, this is English content." Or, "Here you have Spanish content specifically focused on Mexico". So you want to make sure you're using Hreflang tags to tell Google what that content is relevant to.
Scanning with Pay Per Click
The last tip I give you relates to another important part that does not really have anything to do with SEO. It is a smart idea to start running some tests through Pay Per Click in those regions. This allows you to clarify whether it is worthwhile to expand to those regions at all. You can even do Facebook targeting and run Ads within that region. By running and testing PPC campaigns you can quickly see if there are leads and potential sales. Moreover, advertising is always an extension of a larger, organic strategy.