Best Bread Toasters – Opinions 2022
When choosing a new bread toaster, it is important to take into account fundamental characteristics, such as power, capacity, and design, since each model has its particular advantages depending on the use that you are going to give it. For this reason, we have prepared this list of the best bread toasters of 2022.
1. Cecotec Horizontal Flat Turbo Easy Toast Toaster Inox
This horizontal bread toaster allows you to control the power at 6 levels, so you can adapt it to the type of bun you want to toast. It also makes cleaning easy, thanks to the crumb tray included in the package, which is wide and easy to remove. This is an advantage since in this way you can keep the kitchen impeccable.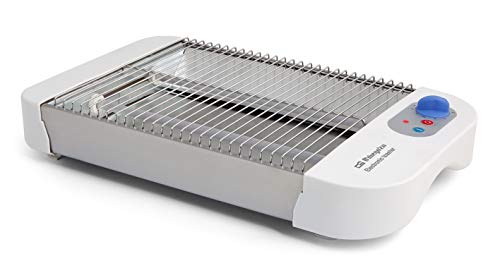 Some users think that this is the best toaster today, since it measures 25 x 36.5 x 6.5 cm and weighs 1.3 kg, therefore, you can take it from one place to another without any problem. As if that were not enough, it incorporates a cable collector in the base to facilitate its storage when you are not using it.
If you want to know which is the best toaster on the market, you must take into account the characteristics of each model and relate them to your particular needs. We see the pros and cons of the Cecotec Turbo EasyToast Inox:
Resistances: It has 3 halogen resistances to maintain constant heat on the entire surface of the grill.
Levels: It has a rotary button to regulate the power in 6 levels, so it allows you to heat and toast a wide variety of bread.
Practicality: It measures only 25 x 36.5 x 6.5 cm and weighs 1.3 kg, making it easy to move and store.
Bell: The tone indicating that the bread is already toasted can be very loud for people with hearing sensitivity.
2. Orbegozo To1010 Toaster 600 W Stainless Steel 2 Slots
It is a horizontal bread toaster that incorporates two resistances, capable of producing up to 600 W of power. In addition, it has a rotary button that allows you to choose between 6 temperature levels, which makes it possible to perform fast and slow toasting cycles.
Thanks to its structure, it offers a wide toasting surface made up of grids, suitable for toasting any type of bread regardless of its size or thickness, thus providing greater versatility. Likewise, it can be used to defrost bread and other types of frozen food and includes a crumb tray, designed to keep the space where you decide to place the equipment clean.
Reading Suggestions; 3 Best Ways A Company Can Save Money On Printing
At the bottom, it has two practical buttons that are used to turn the device on and off quickly. In addition, it can indicate the precise moment when the bread is sufficiently toasted since it has a timer with an acoustic signal.
If you are looking for the best bread toaster of the moment to defrost and toast, then it is convenient that you analyze the pros and cons of this model:
Power: It offers a power of up to 600 W, which can be adjusted to 6 different levels for greater versatility.
Type: It is a horizontal toaster, so it offers the possibility of toasting different types of bread slices regardless of their size or thickness.
Complements: It has a crumb tray and a space to collect the cable to favor its practicality.
Alarm: The alarm beep may be louder than expected, however, its duration is only approximately 3 seconds.
3. Lacor 69172 Horizontal Electric Toaster Simple Grill
This toaster is recommended for bakeries, restaurants, cafeterias, and bars, among other places, since it has a power of 2400 W and works with a voltage of 220-240 V at a frequency of 50 Hz, for this reason, it is capable of reaching a maximum temperature of 320 °C, to quickly heat and toast all kinds of buns.
This industrial bread toaster has a simple horizontal grill and incorporates 4 quartz lamps, two in the upper part and two in the lower area, in this way, it allows a uniform toasting of the bread, for a more professional finish. Likewise, the grid has a folding handle for greater comfort when introducing and removing food.
In terms of design, the toaster measures 50 x 29 x 28 cm, so it offers enough space to fit several buns at the same time. However, it must be taken into account that, being a professional machine, it has a weight of 7.7 kg, so it must be fixed in a specific place.
The best brand of toasters is not necessarily the one with the most expensive products, but the one that offers a variety of options to choose the most suitable one according to your needs. Let's see the pros and cons of this Lacor product:
Power: It has a power of 2400 W, so it can be used professionally in restaurants and cafeterias.
Temperature: This model reaches a maximum temperature of 320 °C, thanks to this, it is possible to toast different types of bread.
Switches: It has two switches to use the upper and lower cooking separately or simultaneously.
Size: Because it is a professional toaster, it measures 50 x 29 x 28 cm, so you must measure the space available in your kitchen.
4. Moulinex Multi Pan A15453 760 W Classic Toaster
This Moulinex toaster allows you to make good toasts to start the day with a practical and quick breakfast. In this sense, it has a power of 760 W and a classic design, so you can prepare 4 portions of bread at the same time, whether in slices, or buns, among others.
According to the opinions of some users, this is the best value-for-money toaster on the current market, since it has practical dimensions of 43 x 25 x 20 cm, with a weight of only 980 g, making it easy to use. move and you can store it without taking up too much space.
It has two cold-touch handles that allow you to remove the slices of bread safely, avoiding burns. In addition, it is very practical, since you do not have to remove the bread to see the toasting level, but you can see it at any time.
This is one of the cheapest toasters on the list and offers good features when compared to other similar models. However, it is good to review its pros and cons in more detail before making a decision:
Simplicity: It is one of the easiest to use since it has a single switch to start its operation.
Handles: Its cool-touch handles allow you to remove the loaves with less danger of burning your hands.
Versatility: This model allows you to toast bread of different sizes and shapes, making it one of the most versatile.
Unilateral: It has a classic design to toast the bread on one side, so you must turn each piece to perform the process on the other side.