Instagram marketing has become an inseparable aspect of online marketing to reach the right audience. Almost every business is now promoting their products and services on Instagram. And why not? Instagram is a community of more than one billion active social media users alone from all over the globe.
Marketers and businesses know Instagram is the best marketing channel to focus on the cutting edge competition and build a strong online presence to boost sales and revenue.
However, brands are facing challenges to incorporate effective Instagram marketing strategies. Instagram marketing strategies focus on creating brand awareness, increase audience engagement, social proof, reach potential prospects, and generate leads, which is not at all an easy-peasy task for marketers who are also engaged in marketing 
the task for other platforms. 
Thus, to effectively execute Instagram marketing, brands need some tools to execute their strategies profoundly. 
In this blog, we will tell you some amazing Instagram marketing tools that you must include in your marketing arsenal and leverage the potential of Instagram profitably to grow your business in this compact competition. 
Keep reading till the end to discover some powerful Instagram marketing tools to achieve higher success. 
Here we go,
8 Best Instagram Marketing Tools For Businesses & Brands
Buffer
Buffer is an essential social media marketing tool to schedule content in advance so that you are ready with your creative content, without worrying and depending on others to publish the content.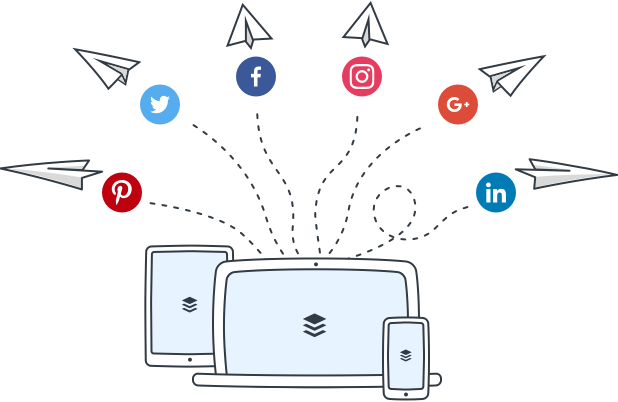 With Buffer, you can schedule the Instagram posts with images, captions, hashtags, tags, etc. in advance. At one time, you can manage the content for a month or two using this tool. It is a must Instagram marketing tool for solopreneurs or single social media managers who have to handle different social media channels altogether. 
Socialinsider is an analytics tool to get useful insights about the Instagram followers and their interaction with your Instagram account and the content you published. This tool will provide you with a complete report of your Instagram marketing and learn about the users who have visited your Instagram profile. 
With this tool, you can analyze users' behavior and engagement on your Instagram handle and know what people like to hear from your brand. 
Kicksta
Kicksta is a great Instagram marketing tool to increase the number of followers on your Instagram account. Instead of manually searching for the right audience and sending follow requests to them. Kicksta helps you find the right set of the audience using the hashtag to receive all the Instagram handles who have created such kind of content. 
With this tool, you can send multiple requests at one time to the right set of audiences. This is an AI-based Instagram marketing tool to grow the number of followers on your Instagram account. 
Taggbox Widget
Taggbox Widget is a social media aggregator platform that helps you collect and embed Instagram posts into your marketing channels. You can easily aggregate social media content from hashtags, mentions, tags, handles, etc. to display on your website, social media ads, email marketing campaigns, repost on Instagram, etc. 
With Taggbox Widget you can fetch user-generated content from your Instagram account and display it on your website in a creative manner using themes, layout designs, colors, fonts, etc. 
You can use the Taggbox widget to integrate authentically, trustworthy, and reliable content into your marketing channels to boost authority and conversions for your brand. 
Agorapulse
Agorapulse is again another Instagram marketing tool to schedule the content in advance and manage the Instagram content for powerful Instagram marketing. 
More than that, it also offers some effective marketing tools that help increase engagement, interaction, and reach with Instagram users. 
Later
With the help of the Later tool, you can create attractive and appealing visual content effortlessly for your Instagram marketing. It offers a variety of features to design creative images in an enhancing portrayal. 
It allows you to create visuals with a drag and drop functionality that makes the creation of content easy and efficient. 
SocialPilot is a powerful Instagram marketing tool to increase effectiveness of your Instagram marketing strategies. It provides various features to enhance Instagram marketing with affordable pricing plans so that every business can utilize this app without giving a second thought to whether to buy or not. 
Along with these features, it also provides a solution for scheduling the Instagram content in advance, making it a good option for marketers to keep this tool in their Instagram marketing arsenal.
Smartly.io
Smartly.io provides automated solutions for your Instagram marketing, known for its comprehensive Instagram ads suggestions to boost sales. 
With the help of this tool, you can enhance the performance of your Instagram advertising campaign with the best ad copy. 
For a single keyword, this tool will generate thousands of suggestions for the particular ads to use the most powerful ad copy to promote your Instagram ads. With this tool, you can drive maximum performance and conversions on your Instagram advertising campaign. 
Conclusion
Now, we are at the end of this blog, where we have learned about the eight best Instagram marketing tools so far. 
If you are planning to grow your business with Instagram marketing, do not forget to include these tools into your marketing tool bucket.