Bluetooth Speakers are there for your convenience. If you are going out for a day out of town, all you have to do is charge it, put it in your car and connect it to your smartphone via BlueTooth to listen to the latest hits. At home, you can also easily place it wherever you want and enjoy it But of course, not all speakers are equally good. Therefore, read the buying guide below carefully before you buy a Bluetooth speaker.
UE Boom 2 Bluetooth Speaker
The UE Boom 2, released by Ultimate Ears, is the successor to the UE Boom and comes with a new design and the sound can now be played 25% louder. It's compact, with a wireless range of 30 meters and, like all Bluetooth speakers, you can stream audio from almost any smartphone or tablet, regardless of the source app or operating system.
In addition, it is completely waterproof and fall-resistant up to a height of approximately 1.5 meters. So it can take a beating. You could double the sound by pairing the speaker with any other Ultimate Ears speaker. You do this through the UE BOOM 2 app for iOS and Android.
You can also switch on the speaker remotely from your phone or wake up with your favorite music. New updates are sent wirelessly via the app to the Ultimate Ears speakers.
You can also use it as a speakerphone if you connect the speaker to your smartphone. The price is on the high side and that is certainly noticeable when you compare it with other speakers and see that it has no unique options.
The high tones of the speaker sound good, but because it cannot process the low tones properly, a less fine sound is created.
The app also doesn't give you many options. But if you are someone who often goes out with speakers, this robust speaker is for you. You could also give it as a present to your teen if he or she has been very sweet as they will surely love it.
It has a cylindrical shape and comes in six colors namely Cherrybomb, Yeti, Phantom, GreenMachine, Tropical, and BrainFreeze.
At the top are two buttons: On/Off and Bluetooth button. At the front a large + and – with which you can turn the sound louder and softer. You can change the speaker settings using the Android or iOS app. At the bottom are the micro USB connection and the mini-jack.
It has a battery that lasts 15 hours and when it runs out you can charge it with the charger or the USB cable.
It is not for nothing that it is the best Bluetooth speaker of the moment.
Benefits
Advantage 1: Switching on and off with your phone is possible
Advantage 2: Wireless range of 30 meters
As the name suggests, the Fugoo Tough XL can withstand a lot. This one looks a bit less elegant but is still beautiful.
The speaker can play sound in all directions, so 360 degrees, and you get 8 powerful speakers with a sound pressure of up to 97 decibels. So your music plays nice and loud. The Bluetooth streams from a distance of up to about 10 meters.
It's waterproof and you can even dip it in water for 30 minutes or let it float. Nothing will happen to it. Not only that. It can still handle a lot. Snow, sand, mud… you name it.
With its housing made of solid aluminum and fiber-reinforced plastic, it can also take a tumble. Unfortunately, it doesn't have NFC (Near Field Communication), but that's not too bad. The highs are strong and clear, although depending on the music you're listening to, there may be a slight hint of harshness.
Reading Suggestions: Smart Speakers and Data Privacy
The speaker also tends to distort the sound at a volume of 85 to 100%. It also depends on where you place the speaker. It is a bit disadvantageous that you cannot read the volume. It's also quite heavy.
This Bluetooth speaker is ideal for people who like a little adventure. It's not really made to be put in the house.
Looking at the buttons, we see that the power button and the Bluetooth buttons are located on the side. The playback controls with skip controls and a play/pause button are on the top of the speaker.
The Fugoo Tough has a battery life of 35 hours (at 50% volume), so playing it lower can last even longer.
The Bluetooth speaker uses an AC adapter to charge and cannot be charged with the USB port. You can charge your phone via the USB port so that it can withstand those hours.
In addition, the Bluetooth speaker has a built-in microphone for hands-free calling and it supports iOS Siri and Google Now voice control!
Benefits
Advantage1: Sturdy housing
Benefit 2: Has a battery life of 35 hours
This speaker is slightly less rugged than the Fugoo Tough XL and is made for both indoor and outdoor use.
A wireless Bluetooth speaker, the Creative Muvo mini allows you to easily stream your music via Bluetooth or the AUX input of analog devices, such as an MP3 player.
The Muvo mini's 2 full-range micro drivers provide crystal-clear stereo sound. Unlike the larger Muvo model, the Mini is IP66 certified weatherproof. So there can be no dust in it and can withstand a little water. It can't be completely submerged, but it can handle a little rain.
Reading Suggestions: Best Home Cinema Set 2021
The USB port and 3.5mm jack on the back of the speaker are also covered. The speaker also has NFC, which you can use to establish a connection. In addition, the speaker of this Bluetooth speaker contains an invisible microphone with which you can answer calls.
It is small and therefore light and easy to carry with you. So it could be an ideal Bluetooth speaker for the ladies. It's quite a small Bluetooth speaker, so don't expect the bass to sound really powerful. It can also happen that music can sound distorted if you turn it up at a high volume.
The Creative Muvo Mini is available in 4 colors: black, red, blue, and white. There are four buttons on top of the speaker. The power button, the Bluetooth button, and the + and – buttons that control the volume. The Bluetooth button can also be used to pause songs and answer phone calls.
It has a built-in battery that plays music wirelessly for up to 10 hours and can be charged with a USB cable.
The Muvo Mini does not cost much and is very handy. It does have a lot of competition.
Benefits
Advantage 1: Comes with an invisible microphone
Advantage 2: Completely wireless
JBL Bluetooth Speaker Charge 3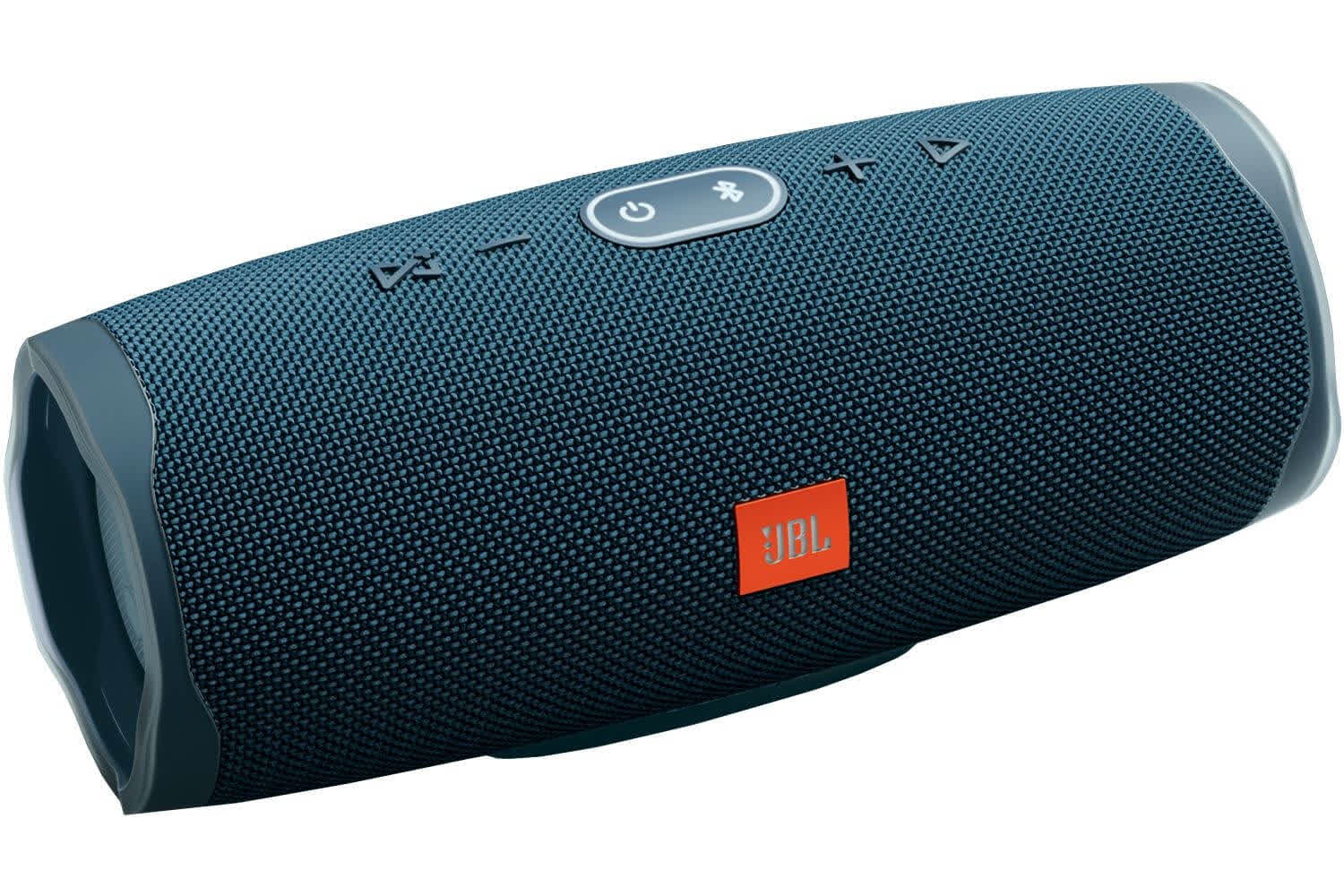 After the mini, it is now the turn of the JBL Bluetooth Speaker Charge 3, a speaker that is again a bit on the heavy side. Up to 3 smartphones or tablets can be connected to this JBL Bluetooth speaker and play them in turn with powerful stereo sound.
You can also connect your MP3 player with the 3.5 mm aux input. The JBL Charge 3 is IPX7 waterproof.
That means you can keep it underwater for a maximum of 30 minutes at a depth of 1 meter. Thanks to the robust design, the JBL Bluetooth speaker travels very well. It also looks sturdy and feels just as tough and hard in the hand.
It has a built-in microphone that you can use for hands-free calling. You can also use compatible JBL speakers to supersize your setup. This is done by pressing the JBL Connect button and using the JBL Connect app.
It can be found on Android and iOS.
It turns out that some types of music don't sound so good through the speakers. And it is also a pity that there is no NFC present. In addition, it is large and heavy. Charging this speaker Bluetooth takes about 4 and a half hours.
The speaker sits on a built-in rubber stand, which features a small row of LED lights that indicate battery life. The more lights, the longer the battery life. The battery lasts no less than 20 hours. The USB port can be used to charge your smartphone while listening to music.
It is available in 6 colors: gray, black, blue, red, turquoise, and Suad Camouflage. The JBL Charge 3 is of good quality and is easy to use as a Bluetooth speaker for outdoor use
Benefits
Advantage 1: Hands-free calling
Advantage 2: It is waterproof
Advantage 3: Bluetooth speaker for outside and inside
Disadvantage: Not all music genres are going to sound equally good
Bose Sound Link Color Bluetooth Speaker
The Bose Soundlink is, compared to the previous speakers, very light. It has a unique design and is also made in such a way that you can pick it up quickly and easily. The Bluetooth speaker is compact, but it plays music clearly. It's easy to connect your smartphone to the speaker.
Bose says it's designed "to be easily kept in a purse, backpack, or in the palm of your hand. The nice thing about it is that you only have to pair your smartphone once because the Soundlink can store up to eight devices in its memory. It also pronounces the name of the device it is connected to.
It can connect to two Bluetooth devices at the same time, so you can quickly switch between them. When the first device stops playing, the second can start.
Unfortunately, it's not water-resistant and it doesn't have a built-in speakerphone. The bass doesn't sound like it should either. The battery does have a life of 8 hours, but it drops quickly when you turn it on at a high volume.
Then it can only play for 3 hours at most. Because it is so small and light, this is quite a good speaker for young people. You can choose from 5 colors: blue, white, black, red and mint green. It has six rubber buttons on the top, the power button, the Bluetooth button, the volume knob, the button to pause the music, and the button to select the Aux source.
At the back are the ports for USB and an external audio source.  The battery has a life of 8 hours and can be charged with a micro USB cable. So you don't have to use an AC Adapter. If you are looking for a Bluetooth speaker that lasts a long time and that can take a beating, it might be better to buy another speaker than this one.
Benefits
Advantage 1: It is compact
Benefit 2: Has a lifespan of 8 hours