The Augmented Reality applications are countless. Unlike Virtual Reality, Augmented Reality is at the intersection of reality and virtual world, the main characteristic of which is that it adds a "Digital layer" to the "real world".
To see what you can do with Augmented Reality, we have listed about 80 examples in from different industries, these examples are divided into different branches of sport. But before we look in detail at the applications of Augmented Reality, it is good to look at the 6 basic concepts of this technique.
Person / Sentiment Analysis: Scan people in real time and, using apps, analyze things like body language, micro-gestures, language and behavior. Get real-time feedback about these people's behavior / feelings.
Face Recognition: Scan a face and match it with a database to learn more about this person's backgrounds
Object Recognition: Detecting and identifying objects and tracking their location. This includes tracking the user of AR in relation to the object.
Information Augmentation and Display: If a person or object has been identified, more information is automatically searched, as soon as it is found, it is shown to the user.
Transition from Smartphone to AR: Augmented Reality shifts the user's attention from looking downwards "on the mobile" to "looking forward" in a headset.
Processing, sensing and scanning: AR devices have their own processor units, these are still quite large, but in the very near future they will increasingly become part of an "ordinary glasses" shape and continuously scan the user and his entire environment.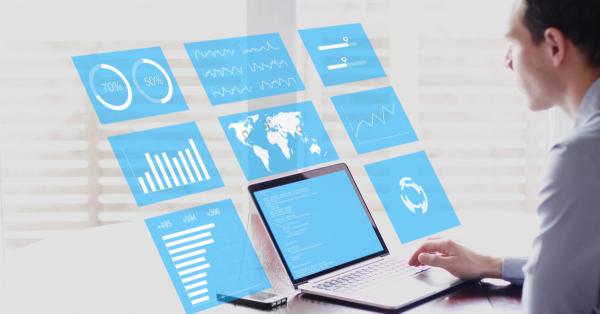 AR Applications in Work & productivity
Screen Creation:
project screens where you want and how much you want. If you need a screen, simply pull it in your field of view, adjust the size and get to work. The use of TVs, monitors and laptops is largely unnecessary.
Conference Calls:
Conference call participants see projections of each other, this will undoubtedly increase involvement and attention level.
You Ma Like: Virtual Reality in the Travel Industry
Real Time Checks:
You meet someone you do not know yet, or for example an applicant, while you join him you get to see the full "online fingerprint" of this person.
3DDesign & Modeling:
Play with the real world, create and view 3D models in your own physical environment. View data and designs in an interactive way, walk through the graph you have put in your office and adjust it with a few hand gestures.
Personal Assistant:
Your agenda, travel times, messages and reminders are always close to you
Working Together:
Sharing is beautiful, sharing from your own point of view even more beautiful! Point of view sharing is the next screen sharing and leads to easier collaboration.
Measure:
Length, distances, content, everything is easy to measure with AR by simply "tapping" on reference points in things you want to measure.
Monitoring:
Compile your own feed with things you want to keep up to date; social media, your security camera, your children, the weather, stock prices etc. etc. You shape the feed how you want this yourself, do you want for example a "Central Command" with all different screens? Everything is possible.
AR user interface:
Operation by means of. voice, gestures, you name it: Retrieve past: through, for example, a link between facial recognition and a CRM, you are able to quickly retrieve all the ins and outs of someone based on a new meeting (the equivalent of someone who always seems to remember all the details about your life)
You May Like: How Virtual Reality Is Changing The World Of Advertising
Research:
Perform real-time searches and get instant answers, useful if you suddenly do not know something in meetings, invisible to the outside world you quickly get the right information in your field of vision.
Augmented Reality Applications in Shopping & Retail
Buying Clothes
We can already buy remotely, now you can also put on the clothes virtually and see in AR whether it fits and how it stands
Buy Furniture
In AR simply put the intended furniture in your living room and play with colors, finishes and choice of materials. You always make the right buy!
Smart in the Supermarket
Set goals in advance with regard to your groceries, nutritional value, sugar content and salt content, AR will then point out in the supermarket what good items would be to buy.
Personal Styling
Simply measure yourself a different haircut in AR, try make-up etc in a simple way without having to make anything final.
Tattoos and Piercings
Are you curious how this so wanted Tattoo will look? And preferably before sitting on it? With AR you can easily apply Tattoos, Piercings and other "body mods" before making a (final) choice.
Brand Recognition
Do you also regularly see someone on TV or on the street and are you curious about what shoes he or she actually wears? Look at it with your mobile phone and AR will show you, you can order them immediately online.
Showrooms.
Easy comparison of prices when you are in a store, "look" at that Smart TV and easily see if it is still cheaper with another provider.
Augmented Reality Applications in Gaming
Geocaching or Location-Based Games
Put a "game layer" over the existing world, make your environment into 1 big game! (Example Pokémon Go)
Gamification of Your Life
Add game elements in your real life (not recommended in the car!)
Dynamic Avatars
Lifelike Avatars that reflect your emotions / facial expressions in real time.
AR Pets
Tamagotchi 5.0, digital pets that follow you everywhere and with which you can interact in a completely natural way.
PC And Console Gaming
a whole new world opens up, TVs and monitors are no longer necessary, after all you can create screens as much and as large as you want.
AR Applications in the Education Sector
Instructions
Visualize assembly / disassembly of objects step by step. Repairs from car to parts of a space station. Replace manuals for smart AR instruction applications.
Astronomy
Look at the starry sky and easily identify planets, galaxies and meteors.
Training New Employees
Training new employees quickly and efficiently with AR instructions and supervision (remotely)
Reading
Read a physical book with AR elements; links to additional information, animations that "jump out of the book" or read the book in digital form in your AR space.
Books
Simply "lock" a book in your sight and read it while running
Augmented Reality Applications in Fitness
Personal Trainer
Instead of watching boring videos or apps, just project a Virtual Personal Trainer in the middle of your training room, walk around the trainer to see exactly how you perform that exercise, and perform them standing next to you at pace to stay.
Optimization of your workout
Let AR think for you and adjust your training in real time, AR is based on, for example, your heart rate, set goals, etc.
Gamification Workout
Add an extra layer of fun to your workout and turn you're running or cycling exercise into an exciting adventure where you collect XP and unlock fun features based on your progress.
Heads up Display
Project personal records or results from previous sessions, if you go RPM now you will see which record you have to break.
AR Applications in Accessibility
Assistance for the blind / visually impaired
AR's ability to recognize objects and "map" its environment in 3D offers possibilities to inform the user, for example via text. What is going on around him? What should he watch out for?
Assistance for the deaf and hard of hearing
The user can see information that he normally hears via AR, sounds are converted into text in AR or even sign language and shown in AR in AR.
Translate
AR is able to translate in real time, both spoken and written text are easily converted into the desired target language and displayed in AR.
Zoom in
Just get closer, simply zoom in and improve the image of everything you see.
Status update on your person
Put a "status on yourself" that is visible to others in AR, do you not want to be disturbed? Then just turn on your "Don't disturb me" status, maybe you are looking for a relationship? Turn on your "I'm looking for… .."
POV Vlogging
In other words Vlogging "through your eyes", more the "First Person" approach. Broadcast what you see, it goes smoothly and automatically in AR.
"Brand" yourself
Make a short bio about yourself that "floats around you" in AR, your profile is visible to others in AR.
AR meeting places
Simply project another person into your own physical space and chat with him or her on the couch as if that person is actually there.
AR Applications in Food & Restaurants
Reviews
Walk past a restaurant and look at it, you will then see reviews, special offers or what the dish is.
Reservations
Look at a restaurant and see at a glance whether there is a place (or how long you have to wait)
Food scanning
How much fat or sugar is actually in this dish? Know it just by looking at it.
Cooking
Walk through recipes step by step in AR, AR helps you with the steps to be taken, weighing / measuring out the ingredients and showing you the tricks, an amateur becomes master chef.
Recipes based on what you have
Look in the fridge, AR scans the content, then show you recipes you could possibly make with what you have
Augmented Reality Applications in Art & Culture
Museum Tours / City Tours
Learn all about artwork, buildings and other objects just by looking past them
Instructions
Step by step instructions in AR to learn how to paint, draw or sculpt
Historical reconstruction
Easily see how the historical situation was on a location, the historical images are "superimposed" on the existing environment
Walks in nature
Easily recognize plants and animals by looking at them, AR projects the information pro-actively in your field of vision. Wondering where you are most likely to observe a specific plant or animal? AR shows you based on numbers of past observations.
Music
Project artist names and song titles in AR of the music you hear.
AR Applications in Psychology
Public speaking
Analyze real-time emotional response in groups of people and determine what works and what doesn't
Meetings
Determine at the table how your conversation partner (s) will receive your words
User tests
Obtain objective feedback on users / product tests, psychological experiments using real-time sentiment analysis
Emotion training
Use exercises with real-time feedback to help determine what desirable social interactions are (such as dosing eye contact, how much distance from a person to keep, etc.). This is a particularly valuable addition in treating people with autism.
Empathy training
Put people in "different shoes" to increase feelings of empathy; let them be a different gender, a different race or let them feel what it is like to be blind.
Medical applications of Augmented Reality
Operations
Easily identify organs and tissues during surgery and receive instructions from doctors or databases that watch "through your eyes" in real time.
Medicines
Supports medical personnel to identify the correct medication.
Increase coverage of doctors
AR gives less experienced medical personnel a boost when a "doctor from a distance" watches and instructs. This creates opportunities for doctors to support multiple locations from 1 location and thus increase their coverage area.
Checking symptoms
Patients are able to match visual symptoms of complaints with medical databases or share them with a doctor in real time
Second opinion
Simply and in real time share the opinion of doctor 1 with a second doctor.
Construction & Architecture
Interior design
Visualize changes in interior / construction etc. before you actually implement them. Other colors, placing furniture, art etc. etc., everything is possible.
Project management
Scan construction projects and easily see the progress and / or specifications are followed.
Blueprints and modeling
Visualize and easily share designs and 3D models in AR projections with colleagues or clients
Project visualization
Walk through the project and see the complete end result, before the first stone has been laid.
Instructions
Follow step by step instructions in AR "as you go", where can you best nail that nail? How do I wire this meter box? Amateurs become professionals with AR
AR Applications in Transport
Navigation but straight in your face, the route is simply projected for you by means of a HUD (Heads Up Display)
Collision avoidance
Computer vision detects and reacts much faster than humans.
Marking dangerous situations
Drivers but also passengers indicate dangerous situations, other AR supported drivers also see this in real time (Waze already applied the technique in a "non AR" form)
Augmented Reality Applications in Defense
Dropping goods
Dropping / leaving all kinds of goods, the location can be marked, it is possible to make this attribute available only to authorized recipients, who can then see the attribute in AR.
AR overlay of civilians / own forces versus enemies. For example, "good people" are assigned a green "aura" and enemies a red one.
Enrich pilots' vision
Identify targets in real time, dodge obstacles, navigate and aim with even greater precision.
Weapon Controls
Real-time instructions on how to operate weapons, vehicles, and other resources.
Status heads up display
real-time HUD which can show various indicators (how much ammunition is left, food, water crew, mission details etc etc.)
AR Applications in Advertising & Marketing
Rationalization and targeting
AR advertisements are specifically aimed at the person, name, interests but also emotional status, location etc. etc. will be used.
Creative possibilities
There will be completely new methods to get your attention, for example, advertisements can jump out of people or something will jump out of that video that you are just watching.
Interactive product placement
Users can view products from an advertisement up close in AR and possibly make a purchase right away
Eye tracking
Ads in AR are able to see where you look, so there is no getting away from it. Is it a "view this ad to continue"? The ad can see if you have your eyes closed, for example, and refuse to continue because you are not looking. (We are not going to make it scarier for now 😉
Struggle of brands
There is a tension between AR advertisements and "conventional".
For example, brands can create their AR ad so that if you see a sign with brand X in the physical world, brand Y will replace its AR advertisement. (This is going to be a very interesting one)