Everyone has money, photos, or important documents at home that they would like to protect. It makes almost no sense to hide them somewhere in the house because if one is looking for valuable objects, they will certainly find them. An electric safe is therefore a good solution. Nobody can open such an electronic safe without the numerical code.
You will leave the house with ease knowing that your important belongings are well protected and that burglars will not come. Would you like to buy an electric safe? Then quickly view the buying guide below with the top 5 best electric safes.
Reading suggestions : The Best 3D Printers Of 2021
1. Yale YSM/250/EG1 Electric Safe
This Yale electric safe is an excellent place to put all your documents, photos, and even your electronics. It has a thick, steel housing that is further reinforced with reinforced steel. It is SKG certified and is, therefore, proof that the safe is indeed burglary resistant.
The hinges are extra reinforced so that no one can break them open. On the front, you have a digital keyboard with a blue-colored LCD screen above it. There are 1 billion combination possibilities that you can use for the lock.
 If you ever have trouble opening the safe, you can always use one of the 2 emergency keys that come with the safe. The safe is equipped with LED lights on the inside so that you can see everything well. The inside is completely finished with felt. The safe comes with a lock-down period. You can choose how long it will last. You have from 1 to 48 hours.
During that time, no one will be able to open the safe. The safe has pre-drilled holes for mounting. You also get bolts. A disadvantage of this safe is that it is not fire-resistant. So you can lose your belongings in a fire. The safe has a weight of 16 kg and a volume of 19 liters. The outer dimensions are 250x350x300mm. The internal dimensions are 240x337x230mm. You can operate it via an electric code lock or with a key.
Advantage 1: Digital Keyboard
Advantage 2: Comes with a lockdown period
Advantage 3: Cheap electric safe
Disadvantage: Not fire resistant
The second safe comes from the Tectake brand.
The safe is very sturdy and you can see that when you look at it. It has a solid door that you can open with a combination of numbers or with a spare key. You will receive 2 spare keys. You can determine the number combination yourself. The combination can consist of 3 to 8 digits. In addition to the keypad, you also have an LCD screen, so that you can check whether you have entered the correct combination.
The safe uses a locking mechanism of 2 solid bolts. There is also a removable shelf inside. Some people did find it a bit awkward to use. The safe is made of powder-coated iron and is black in color. It has a weight of 18 kg. The dimensions on the outside are: (hxwxd) 50 x 35 x 34.5 cm. The dimensions on the inside are 49 x 34 x 32.5 cm. With purchase, you get a manual, a floor mat, 2 spare keys, 4 AA batteries, and 4 mounting bolts.
Benefits
Advantage 1: Comes with a spare key
Advantage 2: LCD screen
Cons: A bit clumsy
Here we have another electric safe from Yale. It's about the same build as the previous Yale vault, but it's a different color.

The digital keyboard comes with a screen that is equipped with LCD lighting so that you can also see in the dark whether you are entering the correct number combination. The combination can be 3 to 8 digits long and is easy to change. It's a good idea to change it every now and then to be as safe as possible.
The door is laser cut. There isn't a big gap between the door and the safe itself, so one won't be able to put a crowbar in there to get it open.
Reading suggestions: Opinions About Apple Air Pods Pro Headphones
The safe uses 22mm long electronically motorized locking bolts to stay securely closed. The hinges are reinforced to provide extra protection. There is also an inner shelf that you can take out. It has a weight of 12 kg. The external dimensions are 250 x 350 x 300 mm.
The internal dimensions are 242 x 345 x 245 mm. Upon purchase, you will receive 2 keys to open the safe if the keyboard does not work. The keyhole is behind the Yale logo. You also get 4 AA batteries. The safe indicates when the batteries need to be replaced. The safe also has pre-drilled holes with mounting bolts and footpads.
Benefits
Advantage 1: Cannot be forced open with a crowbar
Benefit 2: Hinges provide extra security
Advantage 3: Cheap electric safe
Cons: A bit clumsy
This safe from Yale comes with a handy extra. This one is fire-resistant.
In addition to protecting all your important documents and electronics, this is also a fireproof safe. It can protect your belongings from severe fire for up to an hour. The safe contains an extra "safe in a safe" insulation layer that protects extra sensitive digital data.
It contains 16 mm steel locking bolts to keep the safe closed. The hinges are protected with 18mm dog bolts. Instead of a keyboard, this Yale safe comes with a unique touchpad technology that requires you to press your number code to open it. It lights up when touched so you can see it clearly in the dark. You can determine your numerical code yourself and you have 1 billion options.
The combinations can consist of 4 to 12 digits. In addition, there is a Code scramble input function for extra privacy. The codes are then hidden in long strings of numbers. It is also possible to place one-time access codes to outsmart people who were in the room when the safe was closed.
You can set a lock-down period so that your safe cannot be opened from 1 to 48 hours. This comes in handy when you're on vacation and a burglar has tried to crack open your safe.
The only downside is that it doesn't come with an extra shelf. It is not clear whether this safe can also be opened with a key. The safe has a weight of 31 kg, is made of steel, and has a volume of 19 liters. The internal dimensions are 260 x 320 x 234 mm and the external dimensions are 352 x 412 x363 mm. It cannot be anchored.
Benefits
Advantage 1: It is fire resistant
Benefit 2: Code scramble input function provides extra privacy
Disadvantage: Does not have an extra shelf
5. Digital safe TRESOR from Kynas
The next safe is from Kynast and it is a mini-safe. It is ideal for storing money, important papers, and jewelry. The solid steel door will protect all your essentials well. It is held closed by 2 locking bolts with a diameter of 20 mm.
It comes with a handy combination lock that lights up when you use it.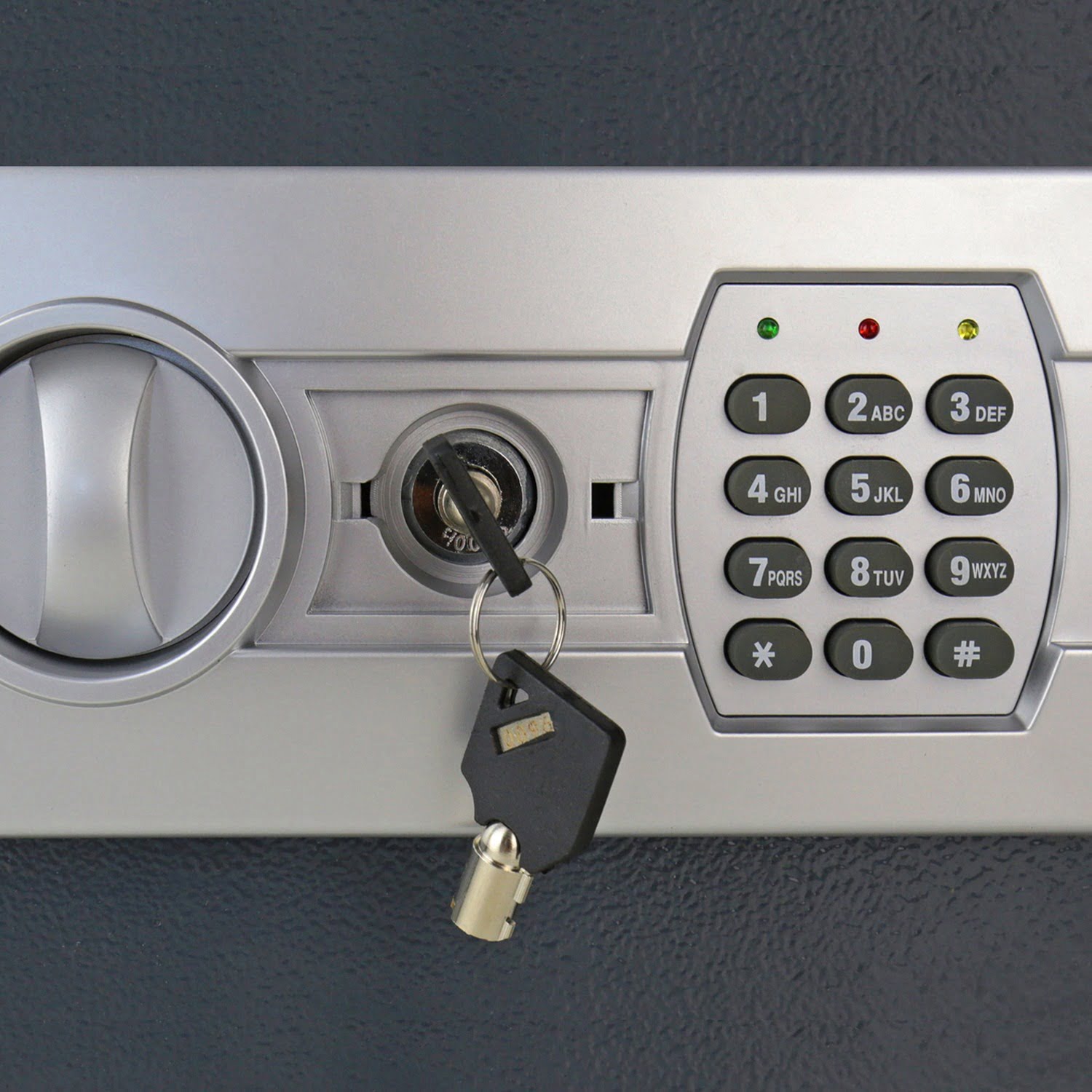 You can set the code yourself and it can consist of 3 to 8 digits. If you have trouble opening it, you can always use the emergency keys. The safe is battery powered and it will notify you when it needs to be replaced.
The safe comes with pre-drilled holes so you can mount it on the wall or on the floor.
That will come in handy as it is a small safe and therefore easy to lift and carry. you will receive mounting material. It has a weight of 2,618 kg and is made of iron. The safe has a length, width, and height of 17 x 23 x 17 cm. It also has a black color.
Advantage 1: Ideal for money and jewelry
Advantage 2: Can be mounted on the wall